Assess disasters and facilitate emergency response, conduct research & mapping, perform search-and-rescue missions, assist law enforcement, and conduct video surveillance for public safety.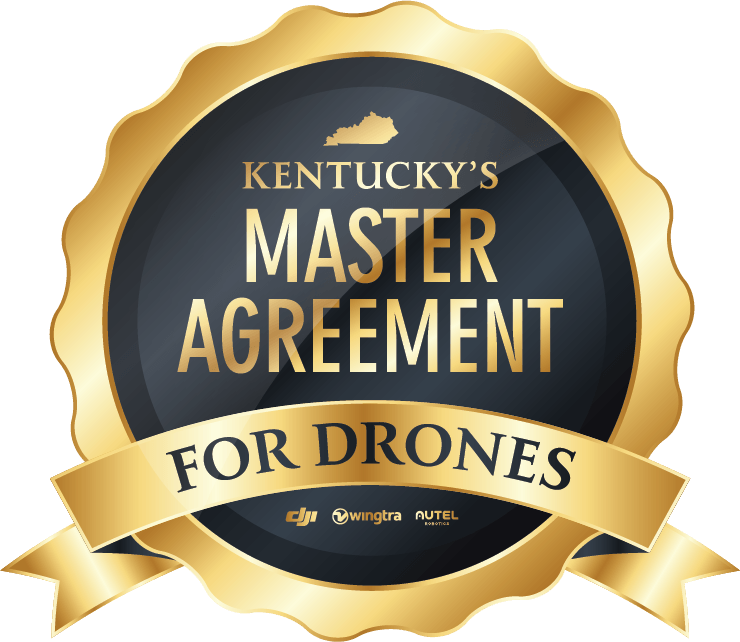 Precision announces we recently were awarded the Commonwealth of Kentucky's Master Agreement MA-758-2200000617 to supply DJI, Wingtra, and Autel unmanned aerial systems (drones) & accessories to state agencies, schools & universities, and related organizations and groups. Along with great pre-approved pricing, our customers also receive expert local service, technical support, and training from our Kentucky-based team of experienced, knowledgeable,
FAA-licensed professionals.
Fill out for more information.
DJI Mavic 2
Enterprise Advanced

DJI Matrice 300 RTK

WingtraOne Gen II

Microdrones mdMapper

Transport Weight

13 lbs

30 lbs

13 lbs

62 lbs

Transport Dimensions

8.43" x 3.58" x 3.31"

31" x 12" x 23"

55" x 29" x 7"

33" x 33" x 26"

Flight Time

31 mins

35 mins

59 mins

30 mins

RTK or PPK

RTK

RTK

PPK

PPK

Available Sensors

32X Digital Zoom

L1 LiDAR,
P1 45 MP Camera
RX1R 42 MP,
a6100 20 MP

RX1 42 MP

Gimbal (moveable/rotating or fixed)

Rotating

Rotating

Fixed

Rotating

Real-Time Video (Sensor/First-Person View)

Yes

Yes

No

Yes

Fixed Wing vs Multi-Rotor

Multi-Rotor

Multi-Rotor

Fixed Wing

Multi-Rotor

Obstacle Avoidance

Yes

Yes

No

No

Project Area Size

40 acres

50 acres per bat set

RX1 at 520 acres
a6100 at 600 acres

200 acres

Weather Resisting Rating

N/A

IP45

IP54

N/A

Battery Charge Time

2 hr

1 hr

1 hr

1.5 hr

Number of Batteries for Operation

1

2

2

1

Cruise Speed

31 mph

22 mph

38 mph

11 mph

Wind Tolerance

26 mph

25 mph

19 mph (ground),
27 mph (cruise)

33 mph